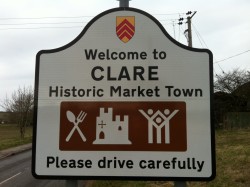 Clare Annual Meeting
The Annual Meeting will take place on Wednesday 8th May at 7pm in Clare Town Hall.
All Electors of Clare are welcome to attend and hear reports from the Town, Borough and County Councillors.
Tea and coffee, courtesy of Clare Co-op, served by Clare WI will be available after the meeting when there will be an opportunity to give your feedback on the Annual Report and any other Clare issues; also to meet Councillors and fellow parishioners.
It is hoped that as many residents as possible will be able to attend.
Story By: Town Clerk
Date : 02-05-2013