Welcome To Clare-UK.com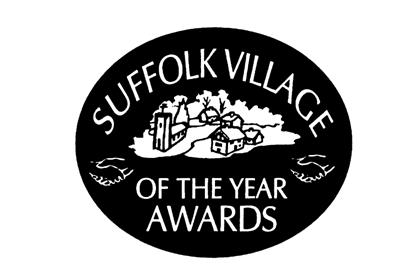 Situated in the beautiful, rolling Suffolk countryside you will find the old wool town of Clare. The town has a fascinating history, many interesting and compelling places to visit, and offers a wide range of shops, antique outlets and high quality local cafes and pubs.

Clare boasts many historical gems including a 13th century Augustinian Priory, Clare Country Park, the stone keep ruins of Clare Castle dating back to William the Conqueror, a Medieval Town Church, and the Ancient House Museum.
Clare is Suffolk Village of the Year 2010 -2012 proving that it is not only worth a visit but that it is also a fantastic place to live. To learn more about our beautiful country town - step inside our website.

Clare's website has been sponsored by Clare Town Council and designed, hosted and maintained by Pure Energy Multimedia.
Got an important notice you think others in Clare should know about? Please contact the Town Clerk for assistance by email or telephone: 01787 277559.
Town News Newsletter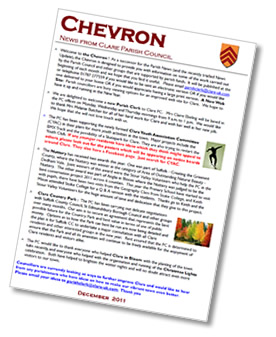 The latest Town Council minutes are now on the website. Read them
here.
Meetings dates for 2015 can also be viewed
here
.
Guidance for parishioners attending Town Council meetings can be viewed
here
.
Latest News!
09-09-2015 - Come to Clare on Saturday 12th September
Shopkeepers and traders in Suffolk's smallest market town are combining forces on Saturday September 12 with a day of sales, discounts and events to bring back customers and boost business following a four week road closure over the summer holidays.
19-08-2015 - Commemoration of WW1 - The Fallen
World War I – the Fallen A brief commemoration will take place at 11 am on Friday 21st August 2015 at the War Memorial.
19-08-2015 - CLARE TOWN COUNCIL SUPPORTS LOCAL BUSINESS
COUNCIL SUPPORTS LOCAL BUSINESS At the last meeting of Clare Town Council on 12th August 2015 it was agreed that the Town Council would underwrite any shortfall (up to £500) in funding for the...
Marketing Links
The following links are unrelated to Clare-UK but reciprocally help in the online marketing and search engine placement of this site.
Lifting Equipment - Pegasus Caravans - Sublimation - Van Racking - Solar Power - Coffin Manufacturer - Machine Moulding - Montage Partitions - Crockery Hire Suffolk - Record Collector - UK Shopping Portal
- Door Mats - Custom Door Mats - Water Softener - Loft Insulation - Solar Panels Essex - Water Softener - Wheelchair Lifts - Step Lifts - Pet Memorials - Green Deal Providers - Zircomium Oxide - Hypoallergenic Gloves - Da Vinci 3D Printer - Platform Lifts