Clare Business Association
What is the Clare Business Association?
The CBA brings together traders, merchants, and all persons, companies and firms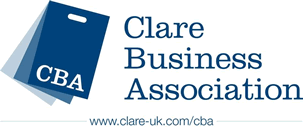 interested in business in Clare, to promote Clare as a place to visit, live and do business. The CBA aims to foster a spirit of goodwill, friendship and unity amongst local business people, to support local charities and worthy activities, and to support fair principles of trading.
Clare is a Key Service centre in the St. Edmundsbury Rural Vision 2031, servicing around 8,500 residents in the local area for whom Clare is the nearest shopping town. Nationally, rural businesses comprise 20% of the total, but in St Edmundsbury, the ratio is 40%. Clare has a good selection of professional services, independent shops with traditional family provisions, cafes and restaurants, ancient pubs and inns, antiques, art and collectibles.
Contact Details and Membership
To learn more about what CBA does and become a Member, please email clare.business.association@gmail.com
Promoting The 'Shop Locally in Clare' Scheme
The CBA has created an illustrated leaflet to promote the 'Shop Locally in Clare' Scheme. The leaflet is an artistic aerial view of Clare showing local shops and services, making it a useful document for residents and visitors alike.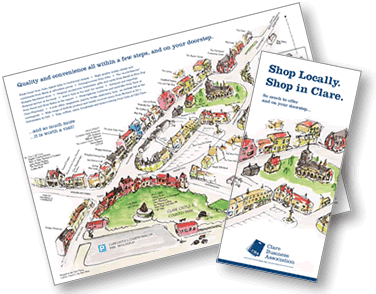 The leaflet's blue insert offers a taste of the other attractions our town has to offer. From Clare's lovely medieval centre with its Wool church and fifteenth century Ancient House museum, there is nearby an Iron age fort, the Augustinian priory, and the Country Park with riverside picnic areas, Victorian railway buildings, and Norman ruins. Around the town there are countryside walks, a golf course and fishing lakes - temptations to attract visitors and key services for those who live nearby.
| | |
| --- | --- |
| | To view the leaflet for yourself click on the PDF link ... you can even print out a copy or two. |