Historical Clare
The Romans, Angles, Saxons and Normans are some of the many who have played their part in the unfolding history, and in the creation of the heritage of Clare. Clare is perhaps a Roman name derived from Latin Clarus, meaning illustrious or renowned, and was a border fortress town between the kingdom of the East Angles and the Saxons. Clare is referred to in the Domesday Book as a settlement of 600, with extensive vineyards. The vineyards no longer exist but it is possible that Claret took its name from Clare.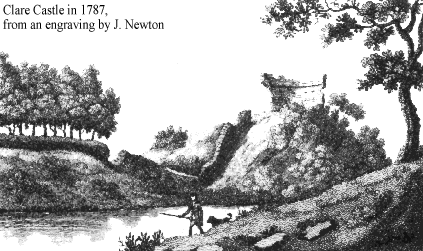 The Norman conquest of 1066 saw Clare given by William the Conqueror to one of his supporters, who as Richard de Clare, became the first of a line of Clare Lords, who developed the existing Saxon earthworks into a superb castle covering 20 acres and housing 250 people as well as several hundred horses. Becoming a crown possession in the 15th century, this castle quickly fell into ruin, centuries of predation have left little of the castle except the original mound, a lookout post, the ruined Keep and Baileys.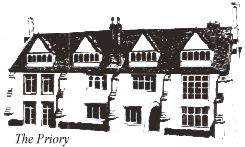 Austin Friars came to Clare in 1249 and were given land by the Lords of Clare. On this they built the magnificent 14th century Friars House and a church. The house and the remains of the church and cloisters may still be seen on a walk on the Priory grounds. The Priory was dissolved by Henry VIII, but the Augustinian Friars returned, a mere 400 years later, in 1953.
Clare has continued to change and grow through the centuries. 17th, 18th and 19th century architecture of quality is to be found here, the railway has come and gone, leaving behind its relics. History in Clare is still being made today.
Taken from a leaflet published by Clare Traders Association.
Designed by Catherine Gay BA, Well Lane Gallery
© Copyright Reserved 1986
For more information on the history of Clare, please see David Hatton's book, which he kindly allowed us to make available on Clare-UK. You can find out more about the book here.