Clare Priory - A School?
By Trevor Pickerin
Clare Priory has seen many changes since it was founded over 750 years ago. Now well known as a Christian Retreat it was at one time a school for boys.
From around 1862 until the mid 1880s boys aged between 9 and 14 attended the school and an earlier census attests that there were three masters to 25 boys, a ratio that Tony Blair would be proud to boast!
The school moved to The Priory from Nethergate House when an incoming head master was offered the building. The new head, a Mr. Joseph B. Gee. accepted the offer, preferring the Priory because "being isolated, its inmates would be less liable to contagious or infectious diseases; and further, because of the roomy character of the dormitories, and the spacious grounds - six acres - which could be applied to recreative purposes."

A few excerpts from the school's November 1873 prospectus reveals some interesting insights into life at the school.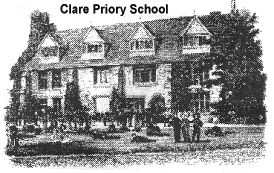 The Bath Room
Contains a bath holding above 300 gallons water. Each pupil is required to take a tepid (80 degree) bath weekly, unless a special request is made to the contrary.

Discipline
Strict discipline is maintained without having recourse to corporal punishment.

Memoranda
The school attends the Town church twice on each Sunday, the Priory pew occupying the whole of a side chapel there, with a private entrance, but a pew is also provided at the Congregational Chapel for those parents who prefer it. College caps are worn on Sundays, and also for walking dress. These can be bought from home or purchased at the School.
The holidays are from the end of July to September 8th and from about 21st December to the 26th of January. No holiday is given at Easter unless specially desired.

Although the school was well thought of the number of pupils steadily declined and in the late 1800s it was forced to close. The building then reverted to private ownership and remained so until the end of the last century when it was once again acquired as a religious centre.
The enthusiastic Headmaster 'Mr Gee' thoughtfully included some 'Opinions' in the schools prospectus of the day.
Robinson, Mr. Richard, 51 Baker Street, Portman Square, London.- " Dear Sir it is now my pleasure to acknowledge the wisdom manifested in selecting your school at Clare for my second son. You will be pleased to learn that he is now doing well in the City of London. The 'push, tact, and principle, manifest in him, evidence wise training. Permit me to rejoice in your well merited success."

Littlewood, Rev. Win., Missionary at Inagua, Bahamas.- " I thank you with all my heart for your faithfulness and great kindness in relation to my son. He says you treat him as if he were your son. His progress also has been most marked."
Curriculum of Studies

Religious
Teaching
The bible is studied daily but sectarian teaching is avoided.

Moral Training

"The excellent behavior and appearance of the boys is in itself, a guarantee for the moral training and tone of the school"

Classics

The end kept in view is to impart such a knowledge of Latin and Greek, by a thorough grammatical and critical study of standard authors, as will be best adapted to prepare the pupil for University Matriculation, Civil Service and Middle Class Examinations.

Mathematics

This includes Theoretical and Practical Geometry, Algebra, Plane Trigonometry and Mensuration.

Commercial

This teaching is of a thorough and comprehensive character and has been suggested by an accurate knowledge of counting-house routine.

Agricultural

Pupils will take Land Surveying, Leveling, and Planning. A class goes out twice a week for this purpose when the condition of the fields and the weather will permit it.

CLARE PRIORY
Clare Priory was founded in 1248 by the first order of Augustinian Friars to be founded in England. The Friars, unlike monks, were not confined to their religious houses but were free to move about the countryside begging, preaching and teaching.

The Prior's house, built in the fourteenth century and re-modelled in the fifteenth, is well preserved having being in private ownership for many centuries.

Only one wall, however, remains standing of the great monastic church in which was buried Joan of Acre, daughter of Edward I and Lionel Duke of Clarence the third son of Edward Ill, whose body was brought from Pavia in Italy to be buried alongside his wife Elizabeth de Burgh.
This article is reproduced by kind permission of Clare Focus Magazine.
First Printed in December 2000.