Clare Town Lions Junior Football Club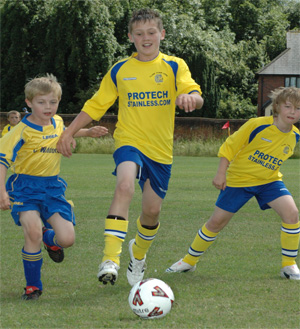 Junior Football is thriving in Clare, spurred on by two former Clare Town senior players, Tony Sheppard and Micky Harding. In 2006 Tony and Micky began to run coaching sessions for free in the evening and on Saturdays, gradually attracting a core of youngsters of all ages. Andy Boddington also began a group for the 11-12 year olds.
From these beginnings, and with the thoughts of the new Football Pavilion in mind, came the Clare Town Lions Junior Football Club.
With the backing of the Football Foundation, the Clare Town Council and St Edmundsbury Council, the Pavilion is now in place and is a fantastic base for the junior and adult clubs.
The Clare Town Lions now have three teams regularly playing in the Colchester and District Youth League. These are the Under 8's, Under 9's and under 13's.
We have 4 manager/coaches with FA Coaching qualifications who hold regular training sessions in the evenings during the Summer and on Saturday mornings in the winter.
The coaching for all under 9's is free while the coaching for the Under 13's is £1 per session.
Youngsters from 5 years old upwards are welcome to join in the coaching and may hopefully make the regular teams.
If you are interested in coaching for any age contact:
Tony Sheppard - 01787 278516
For all other enquiries contact:
Club Secretary - Robyn Sheppard - 01787 278516
Club Chairman - Tony Sharp - 01787 278561
Like many clubs we are entirely reliant on the goodwill of parents, friends and relatives. Apart from supporting the youngsters, they also make the teas and coffees and burgers to raise funds.
We also rely on regular fundraising and sponsorship. We are generously supported by many of the businesses in the town and beyond.
Clare Town Lions Sponsors & Supporters
Kind Sponsors of the team kits are:
Protech Stainless Steel | Vulcan at Haverhill | Paul Clarke Printing | Carl Waldock - CW Plumbing & Heating
In addition we are grateful for the continuing support and generosity of:
Clare Pharmacy | Hudgie's Hardware | The Clare Co-op | Hurst the Bakers
Everything Orange | Clare Combined Charities | MD Office Interiors | Ward Aviation Services | Boydens | J. Ebbens | The Cardommon | Mark Humphrey

Many thanks for all your help, assistance and sponsorship!