Clare in Bloom 2005 News....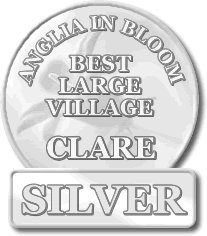 Blooming Marvellous...

2005 was a bumper year for Clare in Bloom, and this year looks set to follow suit. With plans for more community projects, new plantings and a successful drive for volunteers afoot this local society is growing from strength to strength.

The fruits of success Clare in Bloom has been reaping the rewards of all their efforts. Most obviously with a Silver Award in Anglia in Bloom (the Large Village category).

"We did really well in the competition last year" said Jane Haisman, chairman of the society, "and it was all down to the enthusiasm of our volunteers - their efforts throughout the year really make a difference."

With Carol Masson looking after volunteers numbers have continued to rise. New recruit Jackie Hockley's experience is typical: "I joined Clare in Bloom because I wanted to contribute to my community in some way" she says, "I was also new to the area and wanted to meet people. The society members made me feel really welcome and I feel so proud of the results of our efforts around the village."

Local businesses and groups have also played their part. "I'd like to personally thank everyone who has supported us," says Jane, "alongside the grant we receive from St Edmundsbury Council we are reliant on their generous financial contributions." The Nuttery also did well in the competition, winning an award in the special category for conservation. Congratulations to Keith Mison and his team of volunteers.

Working together...

Links with our local schools and amenities continue to strengthen. Last year pupils at the middle school designed the society's portfolio cover and the library held a tallest sunflower competition.

This year the society hopes to build a dry garden in Clare which won't require watering or fertilisers. This is part of a wider initiative to save resources and protect our environment.

Volunteer Graham Hurley is heading up the project. With years of experience in the horticultural world he's well placed to give advice. "With the right plants and containers gardening can be environmentally friendly," says Graham, "that's why we're keen to introduce sustainable planting around the village too. Last autumn we planted 6000 crocus bulbs around Clare ready for this spring, and this year we're going to introduce more perennial planting to the church beds."

If you'd like to take part in village planting look out for posters advertising planting days!

Fond farewell...

It is with genuine regret that Clare in Bloom says goodbye to June Smith who has stepped down from the committee. Her input over the years has been immeasurable and she will be greatly missed - Thank you June!

Silver Medal Award for Best Large Village, Anglia in Bloom 2005...


After a tremendous effort by many members of the community Clare has been awarded a Silver Medal Award for Best Large Village, Anglia in Bloom 2005.


Residents of Clare went to great efforts this year to ensure the town was looking its best with flowering displays at every turn.

The Clare Nutterywas also nominated for the Best Conservation Project award, so well done to them too!

Clare in Bloom is very keen to hear from anybody who is available to help with the watering or tending of the displays. Please contact Jane Haisman on (01787) 279182

2006 Committee members are:



Chairperson:
Jane Haisman
(View 2005 Report)

Treasurer:
Brian Massey

Secretary:
Ailsa Jobson





Doug Tolley


Rosemary Warmington


Graham Hurley


Carol Masson






Jackie Hockley







Local Competition prize winners for 2005

:
| | | |
| --- | --- | --- |
| Best Shop Front | | April Flowers |
| Best Public House Frontage | | The Bell Hotel |
| Best Front Garden | | Mrs. Doreen Porter, 2 Common Street |
| Best House Frontage | | Churchill Close |
| Best Container | | Mr. and Mrs. I. Hastie, 4 Lutus Close |
| Best Hanging Basket | | Mrs. Jean Pashler, 16 Highfield |
| Runner-Up for Best Front Garden | | Mrs. and Mrs. G. Twitchett, 12 Stour Vale |
| Highly Commended Front Garden | | Mr. and Mrs. Robinson, 63 Highfield |
| Best Street | | Highfield |
| Highly Commended Street | | Daneum Holt |
2005Chairperson's Report:
The 2005 bloom season saw Clare win a prestigious Silver Award in the Large Village category in Anglia in Bloom. To view the Chairperson's (Jane Haisman) Report for last year's brilliant effort, click here.