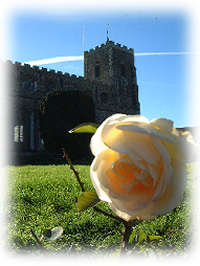 Last Year's Clare in Bloom...
2005 - 2006 has been a year of achievements for Clare in Bloom. We won a Silver Award in the Large Village category in Anglia in Bloom and were nominated for the Environmental Quality Award and the Country Park was nominated for the Best Open Space Award.
In the autumn we planted crocus bulbs in the green sward between the Cock and the Globe. These produced a very welcome and bright display in early Spring. We also planted tulip bulbs in the containers in Clare. We had a very enjoyable morning planting with a good team of volunteers. Jane Bone from the Clare Bulb Company planted bulbs in Churchill Close. The annual winter planting was done for us by Sperrinks Nursery and Nowton Park. We received much praise from members of the community for the stunning winter displays.
As our funding was cut considerably this year we decided to do the summer planting without the aid of the nurseries. Despite our extensive canvassing we had no additional adult volunteers but were very pleased to welcome the local scouts who helped on the Sunday morning after a very busy Saturday at camp. Most of the work, putting the containers in place, filling them with compost and planting was carried out by the Clare in Bloom Committee. Graham Hurley designed the planting, with his usual flair, taking into account the expected very dry summer. We replaced the old hanging baskets with ones that were double skinned to ensure a better use of water. Many of the brackets for the hanging baskets were also replaced. Again we received many comments of how beautiful the summer planting looked. There were several episodes of vandalism at the beginning of the summer which were reported to the police.
The grant from St Edmundsbury Council was reduced this year and we had less money and fewer donations from local businesses but we thank those who gave Clare in Bloom money for their support. We applied for and received a lottery grant from 'Awards for All' to purchase a motorised hand cart bowser and to plant a garden at Clare Primary School. The Royal Bank of Scotland gave us a Community Grant with which we purchased the new hanging baskets and brackets. Our applications for community grants from the Co-op and B&Q were unsuccessful.
Again we had an independent judge for the local competition and prizes will be presented to the winners at the Horticultural Show in November.
Clare in Bloom is the result of much community involvement and hard work. I would like to thank Mr Jacobs for letting us use his shed to store the bowser, Mr Pryke for over wintering the containers and equipment, the sponsors, the Parish Council, the Clare Scout troop, the wonderful band of volunteers and especially the Clare in Bloom committee who have worked tirelessly and supported me throughout the year.