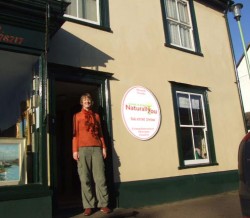 Health Food Shop Opens in Clare
A new Health Food Shop and Complementary Therapy Centre has recently opened in Clare... Named Naturally You, it will provide a combined service offering both treatments and products to help improve and maintain overall health and well being.

As a therapist Chele Brown, founder of Naturally You, often recommended products to assist her clients maintain their overall well being. Discovering that many of these were difficult to obtain locally, Chele decided to stock a selection in her home practice to make readily available to clients. The range expanded and evolved from the excellent Alfred Vogel Herbs and Salus Floradix Vitamins and Supplements to encompass personal hygiene and home care products.
At Naturally You all products will be suitable for Vegetarians and many also for Vegans. Attention to specialist dietary needs will also be met. Naturally You will keep a good range of basic whole foods and everyday store cupboard ingredients along with Vegetarian chilled foods. Many of these products will also be of organic origin or contain organic components. The new business will also be stocking crystals, books, aromatherapy oils and homeopathic remedies.

Chele says, "At Naturally You, we wish to help as much as we can so, if we don't have a specific product, then do please ask, as we may be able to get it for you."
The new business will also offer a range of therapies provided by qualified therapists. The range includes: Reflexology, Reiki Healing, Hopi Ear Candling, Natural Facials, Gem and Crystal Readings, Card Readings, Nutritional Therapy, Acupuncture, Aromatherapy Massage, Cranial Sacral Therapy, Homoeopathy, Orthopathy, Traditional Beauty Therapies, Homoeopathy and Herbs.
All therapists are fully qualified and insured.Therapy hours are flexible. For more information telephone: 01787 278766

Naturally You can be found at 9 High Street, Clare.
Shop Opening Hours
Monday – Closed
Tuesday – 9.30 to 5.00pm
Wednesday – 9.30 to 5.00pm
Thursday – 9.30 to 5.00pm
Friday – 9.30 to 5.30pm
Saturday – 9.30 to 5.00pm
Closed for Lunch 12.30pm to 1.30pm Tuesday to Friday

Date : 22-03-2008