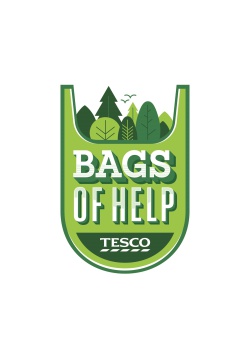 CLARE COUNTRY PARK IS A TESCO WINNER
Clare Castle Country Park has been selected as one of the three finalists in the Tesco East of England Region's "Bags of Help" community initiative. This means that the Country Park will receive a grant of at least £8,000 and possibly up to £12,000 if enough people vote for them in Tesco stores in Sudbury and Haverhill.
Tesco are donating to charity all the money they raise from the charges they are legally required to make for plastic bags. They have set up a scheme called 'Tesco Bags of Help' which gives grants to outstanding community projects.
Customers will vote in Tesco stores for their favourite of three projects that will benefit green spaces local to their store. The project with the most votes will get £12,000, the runner-up £10,000, and the third place £8,000.
The Country Park trustees will use their grant to improve the moat in the Park. The moat has been neglected for many years and this grant will enable specialist work to be undertaken in support of our many volunteers. It is now up to those who shop and vote in Tesco whether we receive the minimum grant of £8,000 or one of the higher figures. The larger the grant the more we will be able to do.
SO PLEASE SHOP IN TESCO IN SUDBURY OR HAVERHIL BETWEEN 27 FEBRUARY AND 6 MARCH AND VOTE FOR CLARE COUNTRY PARK!!
Story By: Town Clerk
Date : 24-02-2016