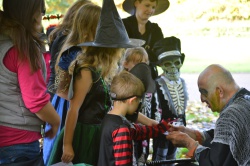 'Pumpkins in the Park' Community event a great success
Saturday 31st October 2015 saw the return of the fantastic 'Pumpkins in the Park' Halloween event in Clare Castle Country Park, enjoyed by children and adults alike.
The park was decorated with pumpkins and balloons and a number of 'dens' housing witches and wizards with riddles and clues to be collected throughout the trail covering much of the park.
This was a true community event and a big THANK YOU should go to all those who volunteered to arrange the event; act as a witch, wizard, or zombie or set up and clear up. They include Clare Town Councillors Margaret Godwin and Phil Gryce, Clare residents of all ages, Country Park Trustees and volunteers, Clare Social Club committee and members, our County Councillor, students and staff from Stour Valley Community School.

Congratulations to the winners of the various quizzes and competitions:

The 'Count the Pumpkins' challenge - there were 106 pumpkins and the correct answer was from Louise who won the jar of sweets. Answers ranged from 42 to 121!
The mystery word was "Wizards" and the Hangman Skeleton prize was won by Joshua.
Louise won the Witch's Cat competition and she named the cat "Mog"
Story By: Town Clerk
Date : 05-11-2015