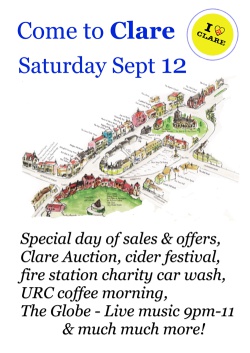 Come to Clare on Saturday 12th September
Shopkeepers and traders in Suffolk's smallest market town are combining forces on Saturday September 12 with a day of sales, discounts and events to bring back customers and boost business following a four week road closure over the summer holidays.
The town of Clare was effectively cut in two while National Grid closed the A1092 to replace an old, fragile gas main and resulting in an official diversion of 40miles.
All but two of the town's traders are independent. While Clare might be Suffolk's smallest town it is rich in history and famed for its independent spirit. So, many of the town's traders decided to shout out to the rest of Suffolk and north Essex about what a great place Clare is to visit.
Alongside the various sales, offers and discounts, in the shops and eateries there are events going on in the town on Saturday including a town trail as well as:
•Clare Fire Station charity carwash, from 10am

•United Reformed Church, Coffee morning 10.30am, Stalls including, cakes, cards, bric-a-brac, books, raffle

•Clare Auction at the Town Hall, with a high volume of gold, silver and jewellery on sale. Viewing is from 2pm-8pm on the day before and 9am on the day; the auction starts at 11am

•Clare Social Club Cider Festival 12noon to12am with live music in the evening

•The Suffolk Historic Churches bike ride

•Live music at The Globe from Basketcase (BSE) playing rock, blues and a touch of soul 9pm-11pm

National Grid was very aware of the disruption the vital gas main replacement would cause to the town and amended its planned programme to get the work done a week ahead of schedule. It is also helping the town by sponsoring the promotion of the Clare day on Saturday.
Story By: Town Clerk
Date : 09-09-2015