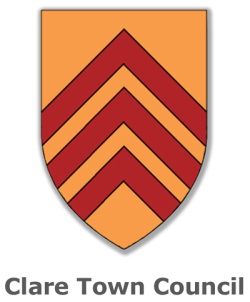 CLARE TOWN COUNCIL SUPPORTS LOCAL BUSINESS
COUNCIL SUPPORTS LOCAL BUSINESS
At the last meeting of Clare Town Council on 12th August 2015 it was agreed that the Town Council would underwrite any shortfall (up to £500) in funding for the proposed 8-page East Anglian Daily Times Clare Supplement.

This supplement is being funded primarily by National Grid, the East Anglian Daily Times along with our County Councillor and some local businesses. This supplement is designed to advertise the fact that Clare is open for business after the road closure and to encourage visitors back to Clare. It is hoped that all the town's businesses and organisations will be represented in the supplement.
There was also a discussion about proposals to arrange an event in the Town to encourage visitors back to the town's shops and possibly an event for Clare residents to celebrate the re-opening of Cavendish Road and Church Street. It was felt that if the plans for the event(s) are firmed up and finance was required then Town Council will able to consider such a request at the September meeting.
Story By: Town Clerk
Date : 19-08-2015