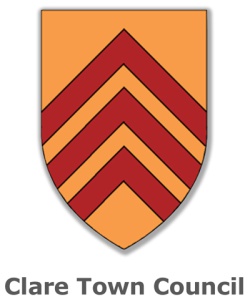 Clare Christmas Lights Discussion at Clare Town Council Meeting – 23rd July 2015
Christmas Lights Discussion at Clare Town Council Meeting – 23rd July 2015
In the light of recent ill-informed posts on various Facebook pages, Clare Town Council wishes to make its position clear unambiguously with regard to Public Liability Insurance and the Christmas Lights Committee.
This motion (below) was passed at the full Town Council meeting on 23 July 2015, with reference to a report from the Finance and Personnel Committee (see link below):
'The matters recommended in the Report have now been resolved and therefore the report is to be recommended for approval'.
It is specifically noted that the Clare Christmas Lights Committee will continue with its own Public Liability Insurance. This will mean that all groups operating in Clare are treated in the same way by the Town Council with regard to insurance.
The Town Council reiterates its support for the Christmas Lights Committee and 

		the Switch-On event through continued grant funding, settling precept funded 

		invoices on behalf of the Committee.
The Town Council writes to the Chair of the Christmas Light Committee to explain the decision and publishes the letter on the website.
Amongst the views expressed at the meeting, the first-class fund-raising efforts by the Christmas Lights Committee were noted.
Please find below links to the relevant correspondence:
The Public Liability Insurance Report that was adopted by the Town Council on 18th June 2015.
Letter from our insurance broker re the insurance provision dated 21st July 2015.
Letter to the Christmas Lights Committee from the Council dated 24 July 2015.
Story By: Town Clerk
Date : 24-07-2015