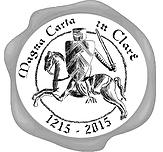 Magna Carta Plans and Road closure
Preparations for the series of events to celebrate Clare's involvement in Magna Carta are making great progress. Events are kicking off on 25 April with the Heritage Walk from Clare to Castle Hedingham and culminating on 13 June with the Medieval Fair in the Country Park.

This is going to be a very exciting and truly community led series of events. Details of the full programme can be found at www.magnacartafestival.org
One of the major events is a procession around Clare for local school children in medieval costume. This will necessitate brief disruption to traffic in the centre of Clare on the morning of Saturday 13 June.
The attached letter here provides the details. If you have any comments or issues you wish to raise, please contact the organisers atinfo@magnacartainclare.org
Story By: Town Clerk
Date : 26-02-2015