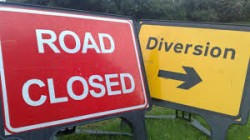 Road closures in Clare commencing 18th June
Suffolk County Council Highways have now provided some more information regarding the road closures. The information previously published by Clare Town Council (gleaned from the meeting on Tuesday) was sent to Highways requesting confirmation. The bulletpoints below have been amended and confirmed (amendments in bold).

There will be a rolling programme of road closures within Clare as re-surfacing work takes place.
The map indicates the likely phases of resurfacing starting on Wednesday 18th June.
No work will take place on Saturday or Sunday.
The red bars on the maps indicate

barrier points,

some of which will be manned to allow access

.
All vehicles must be removed from the roads and

some of the parking areas as the edge of the road will need to be re-laid.

All pavements will remain open,

however it might be difficult to get along some of the narrower ones

.
Road closures notices will be placed at Long Melford and Baythorne Bridge

and in Haverhill

.
Traffic will move freely from early am until 2pm.
From 2pm only essential traffic will be allowed to pass the working vehicles –

by 'essential traffic' Suffolk County Council Highways mean buses, school transport and for access purposes. It will be a rough surface with raised ironworks and could be on either side of the road.

From 6.15pm

some access will be available for 'residential vehicles' but they may have to wait or drive the other way and find an alternative route.

Refuse collections should be unaffected, as will be public and school bus services.

As long as all these vehicles are before 18:15 - some commercial refuse collection may be different.

There is no information currently as to whether the country park parking will be free for the period.
The road closures are the responsibility of Suffolk County Council and its contractor.
The road closures and maps provided by Suffolk County Council Highways can be seen here: http://www.clare-uk.com/userdata/files/clare_road_closures_june_2014.docx
All enquires should be directed to:
Gemma Allard

Communications Co-ordinator
Suffolk Highways
Phoenix House
3 Goddard Road
Ipswich, IP1 5NP
Tel: 01473 264924
Story By: Town Clerk
Date : 12-06-2014