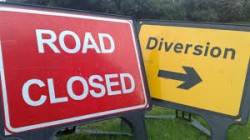 Road closures for resurfacing works in Clare
Following the meeting on Tuesday, we understand the following details:


There will be a rolling programme of road closures within Clare as re-surfacing work takes place.
The map indicates the

likely phases

of resurfacing starting on Wednesday 18th June; red bars indicate closure points. No work will take place on Saturday or Sunday.
All vehicles must be removed from the roads.
All pavements will remain open.
Road closures notices will be placed at Long Melford and Baythorne Bridge.
Traffic will move freely from early am till 2pm.
From 2pm till the last bus passes through (at approximately 6.15 pm) there will be controlled flow - on one side of the road only.
From 6.15 there will be no access for any vehicle where the road is closed off (emergency vehicles excepted) until midnight (or later, depending on the contractor's work).
Refuse collections should be unaffected, as will be public and school bus services.
There is no information currently whether the country park parking will be free for the period.
The road closures are the responsibility of Suffolk County Council and its contractor.
The road closures and maps provided by Suffolk County Council Highways can be seen here: http://www.clare-uk.com/userdata/files/clare_road_closures_june_2014.docx

Story By: Town Clerk
Date : 11-06-2014