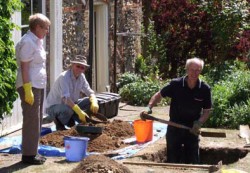 Clare Castle Excavations
Get involved in the Clare Castle Excavations
Thursday 23rd to Friday 31st May 2013
Access Cambridge Archaeology,on behalf of the Heritage Lottery Funded Managing a Masterpiece landscape partnership project in the Stour Valley, is running a nine day public programme of community archaeological excavations and test-pit digging in Clare between Thursday 23rd and Friday 31st May 2013, including the late May Bank Holiday weekend. The excavations will be directedby Carenza Lewis, well known from Channel 4's Time Team and BBC's Story of England.
The excavations will take place in Clare Country Park in the former bailey of Clare Castle, a medieval motte-and-bailey castle of Norman origin that lies adjacent to the River Stour in the southern part of the historic market town. The castle itself includes one of the largest mottes in England, and was the possession of one of most powerful Norman families from the eleventh century. The castle forms an integral part of a town which testpitting led by Access Cambridge Archaeology indicated was enlarged and replanned in the eleventh century, either before or shortly after the Conquest(Lewis and Ranson 2011).
The aims of the 2013 excavations in Clare Country Park are to assess the archaeological potential and level of preservation of the site and establish whether there is any evidence for early Norman and possibly pre-Norman activity and if there is any trace of the 14th-century gardens of Lady Elizabeth deBurgh. The test pit excavations will aim to establish the date of any material culture from areas around the castle site now in private gardens.
The excavations are open to members of the public living in the Stour Valley area of south Suffolk and North Essex. Anyone living further away may be offered a reserve place if one is available. Priority will be given to residents of the parish of Clare, members of Clare Historical Society andstudents registered at Stour Valley Community School, and ACA especially welcome anyone who would like to dig, or host, a 1m2 test pit in their garden if they live close to the castle.
There are a limited number of places available. However, ACA will endeavour to allocate places giving consideration to involving as many people as possible. Applications will be accepted from all members of the public until 12 noon on Monday 18th March 2013.
Story By: Town Clerk
Web Link: www.arch.cam.ac.uk/aca/clare.html
Email Link: access@arch.cam.ac.uk
Date : 07-03-2013