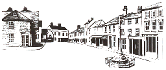 Welcome to the 'About Clare' section of Clare-UK. Here you will find an index of articles about Clare, it's history and other general information.
Come to Clare
Of the smaller towns in Suffolk, Clare has a deeply fascinating history and the kind of timeless beauty which can only evolve over many centuries.
It's a Small World ...
East Anglia is the oldest settled region of England and many of its towns can be dated back to pre-Roman times.
Historical Clare
The Romans, Angles, Saxons and Normans are some of the many who have played their part in the unfolding history, and in the creation of the heritage of Clare.
Clare Priory - A School?
Clare Priory has seen many changes since it was founded over 750 years ago. Now well known as a Christian Retreat it was at one time a school for boys.